Once you've visited the website page, Economic Calendar, below you'll easily understand how to read the Forex Economic Calendar.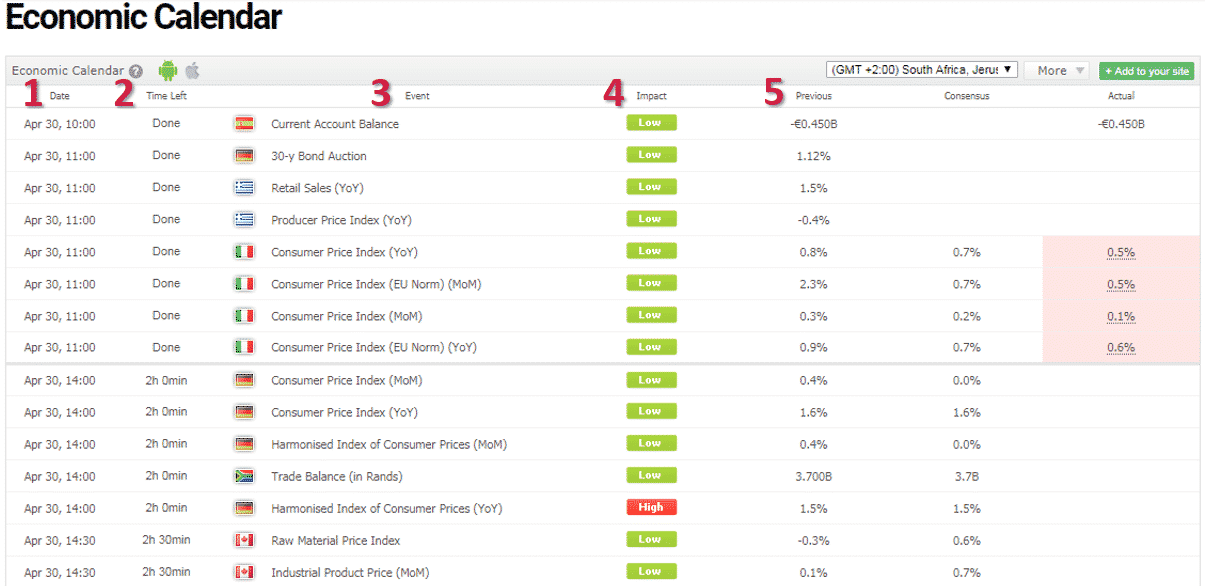 #1 Date
All economic events are shown in chronological order with the date and the time the announcement was released or will be released.
#2 Time Left
This will show you either the time left, minutes or days, before the next announcement is released or you'll see "Done" which tells you that the event has already happened.
#3 Event
The flag icon indicates the country of the news or data release and next to it, its event's name.
#4 Impact
An important indication on how likely there'll be an impact on the currency and equity markets.
Each market event will be marked with either ONE of the four impacts:
No impact (No significant event to move the market)
Low impact (Low probability to influence the market)
Medium impact (Medium probability of moving the market)
High impact (Highly likely event to move the market)
#5 Previous/Consensus/Actual
With each economic indicator event released, you'll find the Previous, Consensus and Actual numbers on the top right of the Forex Economic Calendar.
Previous
The previous data results e.g. Last month or last quarter
Consensus
The expected number that is the general agreement of the experts.
Actual
The economic event's data released which shows you whether the data is BETTER (Green Highlight) or WORSE (Red Highlight) than expected.
How to Customize your Forex Economic Calendar
Choose your time zone:

First, click on the drop-down list where the calendar sets its default time zone to (GMT +0:00) Western Europe Time. Change the time zone on the top right of the Calendar to (GMT +2:00) South Africa.
Filter by the impact of events: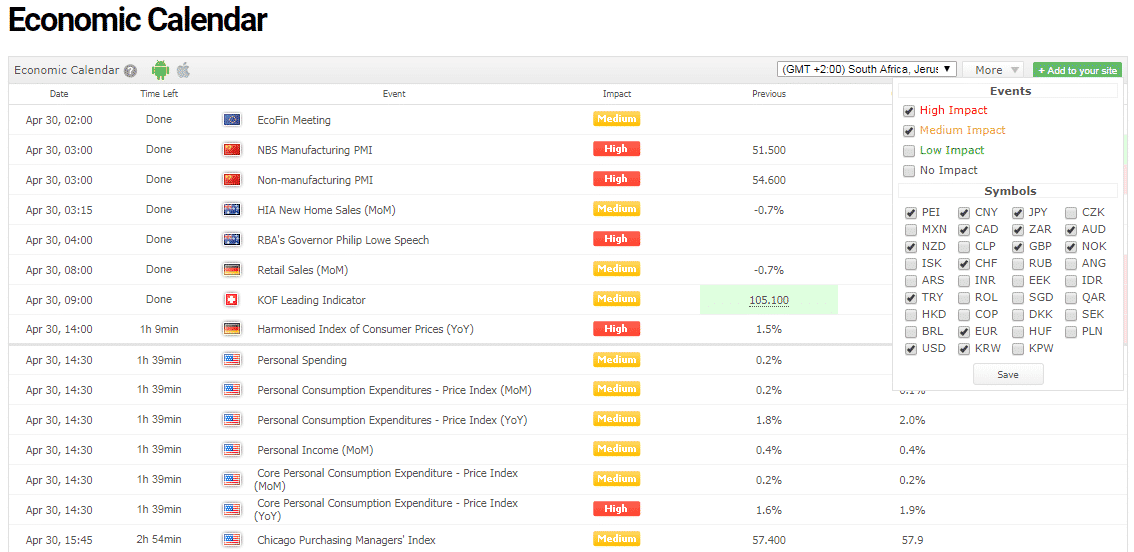 Click on the drop-down list on the top right of the calendar to filter according to the impact of the events and the symbols you wish to see. Then click save to update the information.
Extra Notes with the Forex Economic Calendar
There are a couple of important events you'll need to watch out for on a monthly basis.
Some of the most influential events, in no specific order, are the following:
Interest rate decisions
Non-farm Payroll
Changes in Gross Domestic Product (GDP)
Consumer Price Index (CPI)
Purchasing Managers Index (PMI)
Unemployment rate
Initial Jobless Claims
Economic indicators are the not only important events to watch out for. Also take note about the following news events:
Event #1: ECB (European Central Bank)
Event #2: US Fed
Event #3: Bank of England
Event #4: Bank of Japan
Event #5: Swiss National Bank
Event #6: Bank of Australia
If you take all that has been mentioned in this article into consideration, you can look forward to much success using the Forex Economic Calendar in your trading arsenal.
"Wisdom yields Wealth"
Timon Rossolimos
Analyst, BlackStone Futures
Enjoyed this article? Feel free to send me your thoughts to [email protected] and don't forget to LIKE our Facebook page for trading related to articles, tips, events and specials…
High Risk Investment Warning: Trading foreign exchange and/or contracts for difference on margin carries a high level of risk, and may not be suitable for all investors. The possibility exists that you could sustain a loss in excess of your deposited funds and therefore, you should not speculate with capital that you cannot afford to lose. Before deciding to trade the products offered by BlackStone Futures you should carefully consider your objectives, financial situation, needs and level of experience. You should be aware of all the risks associated with trading on margin. BlackStone Futures provides general advice that does not take into account your objectives, financial situation or needs. The content of this Website must not be construed as personal advice. BlackStone Futures recommends you seek advice from a separate financial advisor. Please take the time to read our Risk Disclosure Notice.
[su_divider]
Read Our Most Popular Articles Below, It's Worth It!