Have you considered trading forex, but found yourself stuck wondering how to choose a forex broker? Commission or no commission? Fixed spread or variable spread? Local or foreign? Regulated or unregulated? There's a lot to consider when choosing a forex broker and it can all be a little bit daunting when you're just starting out so we've created this handy guide to teach you all you need to know and get you to select the best forex broker first go.
Choose a local broker
One of the biggest mistakes new traders make is trading with foreign brokers. Generally, these brokers are very happy to sign you up and take your money without any fees, but when it comes to getting your money out, that's when the problems start. You'll be lucky to get hold of support staff during your local business hours and if you do manage to jump through all their hurdles, you'll have the pleasure of paying exorbitant wire fees of 750 ZAR or more just to withdraw your own money – save yourself the hassle and trade with a local broker.
Choose a regulated broker
By choosing a local South African forex broker, you have probably already done this next part, as all South African brokers should be registered with the FSCA, but take a close look just in case. Sometimes a broker may set themselves up to appear like a local regulated forex broker but they aren't anything of the sort. These days it's very easy to spin up a company and virtual office and it's just as easy for a company like this to disappear overnight. By only trading with a trusted, regulated forex broker, you'll save yourself a lot of trouble.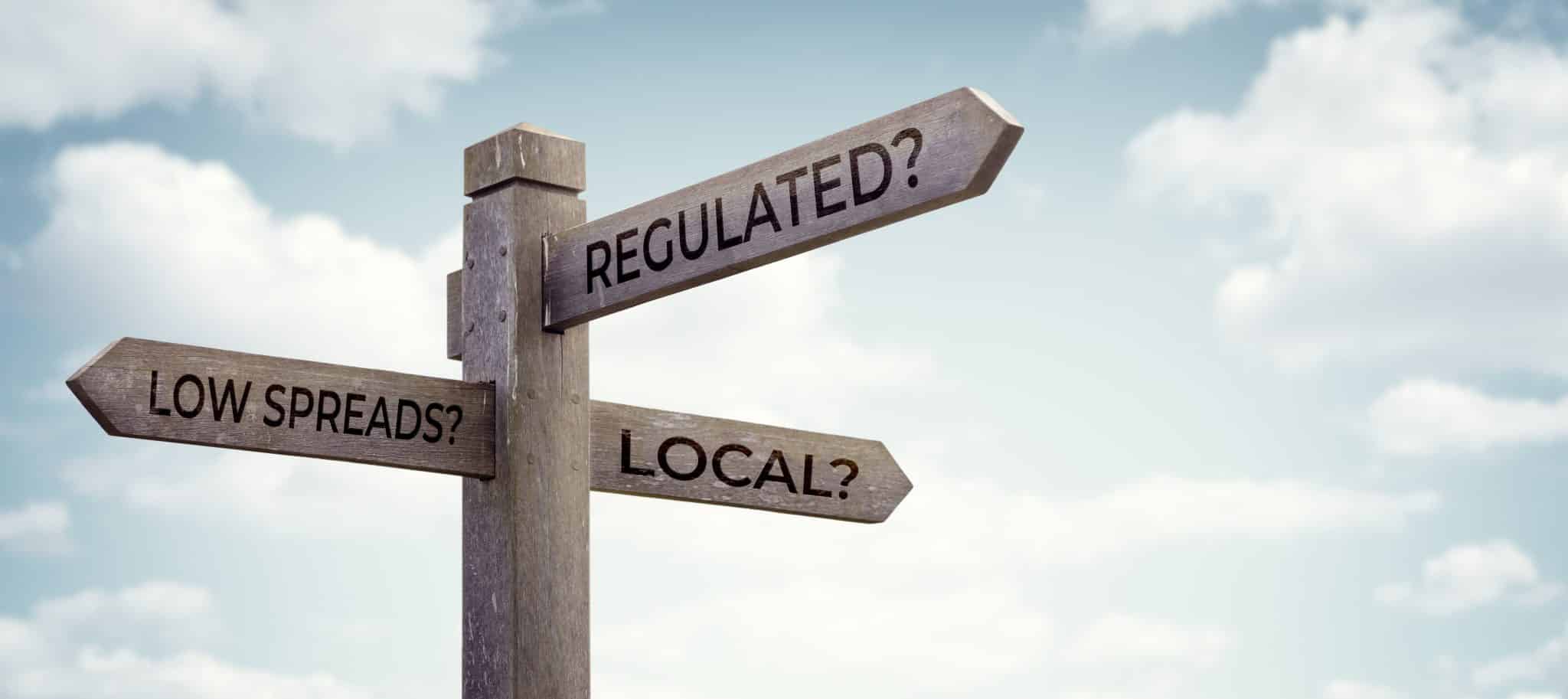 USe a broker with no commissions
Do you really want to pay your broker every time you open a trade? Probably not. Though trading fees in forex are relatively small, they do add up over the year and if you're paying your broker for the privilege of trading with them, you want to make sure they are giving you a mighty good deal. This leads us to our next point –
Choose a forex broker with low fixed spreads
Brokers who charge commissions usually use really low variable spreads to entice traders. These brokers always seem like a great deal, except if you actually crunch the numbers, even their lowest advertised spreads don't really add up after you factor in commissions. That's bad enough in itself, but what you will soon find is their spreads are rarely that low anyway, or even if their averages are solid, they will still widen substantially when news comes or in other times of low liquidity. A good fixed spread broker keeps their spreads tight 24/5 so you always know what you're getting, if spreads are widening with your fixed spread broker and they don't usually, it might be a good idea to stay clear of the market as you are obviously looking at abnormal trading conditions.
Choose a forex broker that doesn't trade against you
Did you know lots of forex brokers actually trade against you and profit when you lose? This is definitely not the sort of relationship you want to have with your broker. STP brokers pass your trades through to the real forex market rather than taking the other side of your trades and are the only option if you're going to be making money. If you start making money with a non-STP or non-ECN broker, you might find you have trouble withdrawing your profits or find yourself banned once you do. Don't waste your time with brokers like this.
Use a forex broker with good support
This is a very easy one to test before you even open a forex account – open up a broker's live chat and ask a stupid question. Are the support staff patient and friendly? If you're going to be depositing and risking your hard-earned with these guys, the least they can do is be polite and professional, no matter how stupid your question may seem.
Choose a forex broker with a great product selection
If you want to trade US500 with small lot sizes, you need to make sure you trade with a broker that actually offers this product. There can be a lot of variation between brokers and you'd be surprised at some of the minimums. We've heard of traders thinking they are opening a $10 000 trade only to realise they are in a $100 000 trade. On the other hand, if you're not trading Orange Juice futures, maybe you're better off finding a broker that has better conditions on the products you do trade.
Use a broker with negative balance protection
Last but definitely not least is negative balance protection. One of the best things about trading and investing is asymmetrical risk and returns – you can only ever lose what you invest and you can readily double or even triple your investment over time. This isn't actually always the case though, some forex brokers actually allow you to lose more money than you deposited, you definitely want to stay clear of these brokers. With proper risk management, you should never be losing all of your money anyway, but if a black swan event does occur and you're unlucky enough to be caught on the wrong side of it, you don't want to wind up losing more than you were willing to risk in the first place. Some brokers have been known to waive negative balances after a black swan, others have been known to relentlessly hound their clients and chase up these "debts" – save yourself a world of pain and go with a broker that is honest with you from the outset.